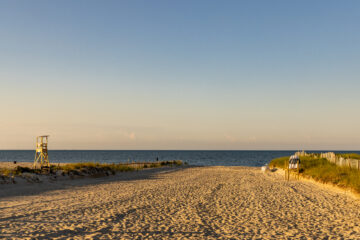 Imagine a cloudless sky, the fine texture of white powdered sand, and the warm waters of Nantucket Sound where the water temperature reaches the mid 70s during the months of July through September. At Inn on the Beach you will be supplied all the necessary equipment for a day at the water's edge……. just remember your sunscreen, hat and bathing suit. Our private beach, adjacent to the Bank Street Beach, has been designated a "pristine" beach by the Barnstable County Health and Environment Water Testing Laboratory because of the superior quality of the waters offshore.
Chaise lounge and umbrella will be awaiting you after you have enjoyed the continental breakfast we offer from our guest lounge overlooking the lower deck and beach. Or enjoy your breakfast from the vantage point of the upper patio or beach deck, where the almost 300 feet of white sand beach awaits your arrival. From the many scenic viewing points on our property, you may enjoy the beautiful ocean front setting and watch the weekly regattas from the neighboring harbors.
Perhaps you would rather a more secluded beach day…..We will set up the seating area of your choice or you may choose to unwind in one of the three hammocks set up on the beach. Fly a kite or take a walk along the shore while selecting the best seashells of each tide.
We look forward to our guests, former and new, as they arrive at our continually refurbished Inn and we are anticipating a wonderful season of fun in the sun!